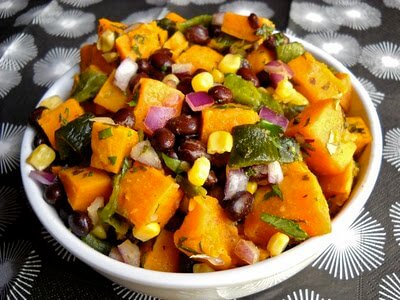 Photo Credit: http://www.ncsweetpotatoes.com
This recipe comes to us from Ron DeSantis, the Director of Culinary Excellence at Yale University.  The Yale Alumni Association is a partner of ONE.
Yeild: 20 Portions
Ingredients
4 ½ lb  Sweet potatoes, peeled, large dice
1 lb Poblano peppers, seeded, medium dice
½  cup Extra virgin olive oil
¾  teaspoon Kosher salt
¼  teaspoon Black pepper, freshly ground
2 teaspoon Light chili powder
¾   teaspoon cumin, ground
Instructions
1.   Place roasting pan or baking sheet into oven and preheat oven to 350F.
2. Combine all ingredients in a large bowl and toss until potatoes are well coated.
3. Place seasoned potatoes and poblano peppers into preheated roasting pan or baking sheet.  Roast for 15 minutes or until potatoes are tender.